Megazoic: The primeval power by Matthew Donald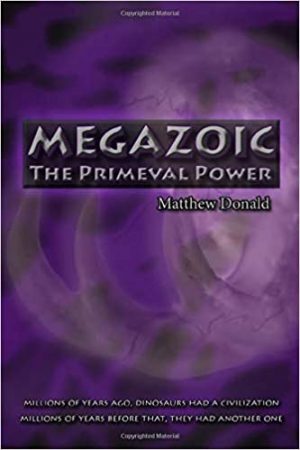 Hi Books Lovers,
how are you doing in this quarantine period? I hope you are staying at home safe from this virus … and by staying all at home it is hoped that the infections can decrease to become zero, it is our only hope now, to try to do everything we can so that soon everything can return to normal.
I don't know about you but in this period the only thing we are doing at my house is to cook everything and more – more sweets stuff – and obviously eat … now I don't even want to do physical activity XD anymore. And although in this period it should be used by us readers to read more, can you believe that since the quarantine began I have only managed to finish one book. Netflix and Amazon prime video during this time have my full attention day and night. I don't know how to pass these days anymore, what are you doing these days?
However, even if this review should have arrived some time ago, today I want to tell you about Megazoic: The primeval power, the second volume of the saga started with Megazoic written by Matthew Donald. The first book had been somewhat interesting and curious. After all, not every day you see books that speak of dinosaurs capable of understanding and wanting, with their technologies and real communities.
Kortan is always our protagonist. In the first book to save his friend he had made some very important discoveries. A won war is behind them and our protagonist has contributed to help win it using the device stolen from the opponents.
The adventure for Kortan never ends. He always seems to be in trouble, but in the end he always comes out of it. Kortan is a great adventurer and although not welcome, as we saw in the first book, he knows what he is doing and manages to gain the trust of his people thanks to his skills with technology.
Reading something so fresh, different, new, interesting and flowing was beautiful. And since it is still animals you will never have the disappointment that people can give, even if the bad decisions of the characters are certainly not lacking. Now I just have to read the third volume to find out more about the world of Laurasians and Tyranneons.
PS. good spring, and even if it doesn't seem so, we must always continue to hope and remain positive and repentant.