Ghost of the shadow market by Cassandra Clare & company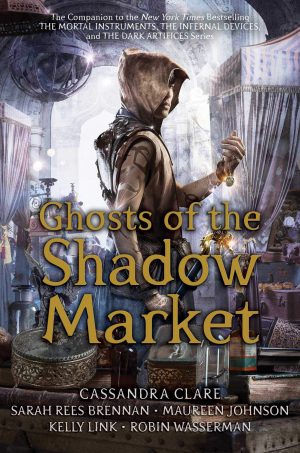 Hello Books Lovers,
new week new reviews no? Today I want to talk to you about a book, in fact out today for Mondadori, much awaited, as indeed all the books of this author. Ghosts of the Shadow Market by Cassandra Clare. You have probably noticed the co. in the title of the article XD, like every collection of short stories Cassandra Clare always writes these stories with several hands, and this in my opinion is one of those factors that make these stories more exciting and beautiful to read, because they are born from multiple minds and are developed from several hands even if the true creator is only one.
This book lets us explore the personalities and the world of the children of our beloved characters from The infernal devices trilogy. We have the children of Will and Tessa, of Gideon and Sophie, of Cecily and Gabriel and Charlotte and Henry. But not only that, because going on with the stories we will also find many other old characters that we loved so much, or hated, depending on the point of view. In short, there is something for everyone. But the real protagonist is, one of the most loved created by Cassandra Clare, Jem Carstairs, or also known as Brother Zaccaria.
Reading these stories made me want to read The Last Hours even more. The first volume of this new trilogy should be released in March, a month that has never seemed so far away.
In all there are 10 stories plus an exclusive story. I leave you the titles of the stories because in any case they are stories that were already digitally released one a month.
Cast long shadows: Matthew Fairchild is the Consul's son and the golden-haired boy of the Nephilim. He has the love of his family and his parabatai James Herondale, and nothing to wish for, except excitement and artistry and beauty that do not seem to fit in with a warrior's way of life. Matthew gets more than he bargained for at the Shadow Market, where he commits the greatest sin of his life – something he can never tell his parabatai, or any of the honorable Shadowhunters around him.
Every exquisit thing: Anna Lightwood, eldest child of Gabriel and Cecily, is mad, bad and dangerously dapper. Every rake has an origin story, though: now under Brother Zachariah's eye we see Anna's doomed love story unfold.
Learn about loss:In a small town lost to despair, a dark carnival of a market appears. Faeries and warlocks we know converge, and the fate that will one day produce Kit Herondale is sealed
A deeper love: It is only three years since Tessa Gray lost her beloved husband William Herondale, and she is searching for a reason to live, trying to find the path of being a warlock with the guidance of her friend Catarina Loss. World War II rains down destruction on their world, and Tessa and Catarina become nurses who make bargains at the Shadow Market for enchantments to help suffering mundanes. But can Brother Zachariah bear to see the woman he loves risk her life, or might he consider breaking sacred vows to save her from loneliness?
The wicked ones: Celine Montclaire goes to the Shadow Market to escape. She would go anywhere in Paris, or the entire world, to escape the suffering she experiences at the hands of her family. She did not expect to meet Valentine Morgenstern there, or to have him promise her freedom and the heart of the man she secretly loves. On one condition, of course. At the Shadow Market, nothing is for free.
Son of dawn: The Lightwoods, the Shadowhunters who run the New York Institute, are expecting a new addition to their family: the orphaned son of their father's friend, Jace Wayland. Alec and Isabelle aren't too sure they want a new brother, and their parents are not assuaging their fears, too occupied with the dark news that Raphael Santiago, second-in-command of the New York vampire clan, has brought from the Shadow Market.
The land I lost: Alec Lightwood, partner of the High Warlock of Brooklyn and father of a warlock child, is sent to Buenos Aires to re-establish the Shadowhunters amidst the ruins left by the Dark War. When he arrives, he is not welcomed by the Shadowhunters there. He believes it is because of his companion Lily, the head of the New York vampire clan, until a Shadowhunter orphan confides a dark secret to him under cover of the Shadow Market.
Through blood, through fire: Jem Carstairs and Tessa Gray are finally united after waiting over a century to be together, but they become aware a dark threat is looming over a child of the Shadow Market: a lost Herondale, from a line of Herondales who have used the Market to hide from their fellow Nephilim. Now is the time for the lost Herondale to be discovered. Jem and Tessa have to find him before his enemies can.
And then there are two unpublished digital stories, The Lost World and Fallen Forever, which I can't tell you anything about. I just add that if you are a fan of the Shadowhunters and Cassandra Clare you certainly can't miss this release. These companions are must-haves for fans of a saga and I personally always think about how I will do it when all the Shadowhunter books are finished. There are still a couple of years left, I just hope Cassie finds more stories and never closes this chapter that has lasted more than 10 years.